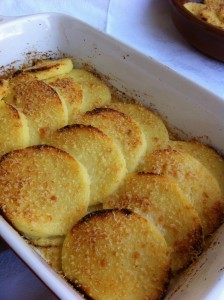 Some non italian friends are complaining: " The recipes looked gorgeous but we can't cook them because they're in Italian!". It's difficult to understand all steps for non-italian speakers.
Ok, ok … here you are my idea. From now on I'll translate all traditional italian recipes into english before posting them, this will definitely help my friends to cook in a more italian style without mistakes 🙂
Despite the name "gnocchi" recall to a plate made with potatoes, the "gnocchi alla romana" are instead made with semolina flour, cut into disks, layered in a baking pan and backed in the oven.
It's easy to preparare, it can be done the day before (and cooked just before eating them) and it's cheap, very cheap!!
Ingredients
1 L milk
250 gr semolina flour
2 eggs
50 gr grated Parmigiano
60 gr + 60 gr butter
nutmeg
salt
Preparation
Bring the milk with a pinch of salt and a pinch of nutmeg to boil, and gradually add in the semolina, stirring constantly to prevent lumps. The mixture will become quite thick. Let cook 2′-3′ without stop stirring.
Remove the pot from fire and add 60 gr of butter at room temperature cut in small cubes. Let the semolina cool and add the eggs and the grated cheese.
Mix well and spread the semolina around 1 cm thick  on your work surface. Using a biscuit cutter, cut the gnocchi into disks. Arrange the gnocchi in the baking pan so they are overlapping.
Add on the surface of the gnocchi 60 gr of butter cut in small cubes and more grated Parmigiano.
Transfer the baking pan to the oven and bake  at maximum temperature for about 15′-20′ until the top is golden brown.
Buon appetito! 🙂