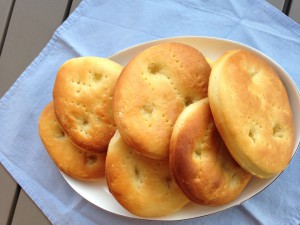 We moved to Seattle 2 months ago and we almost have everything settled: children started preschool and kindergarten, bureaucratic things were done,  and some basic home and kitchen accessories have been bought. Ok, maybe some of them cannot be called "essential" but they were essential for me 🙂 .
"To do list" to go through once landed was looooong and I told myself was time to take a breath and bake something. I started baking a crostata for breakfast, then biscuits for tea time and finally I decided it was time to bake focaccine (little foccacia in italian) for dinner.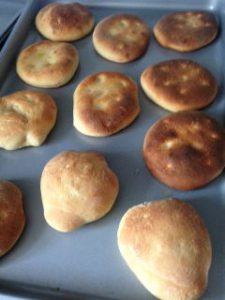 In this blog I already posted here how to do focaccia with yeast. This time I'll use the "mother yeast". You can buy it or have some friend giving you a piece. This is the way our grannies were used to make bread and once you'll start you won't come back to the yeast anymore, believe me!
I like this recipe because focaccine are soft and delicious to be eaten with Prosciutto or cheese. Perfect also to prepare for kids parties or a picnic.
Ingredients (for 8-9 focaccine)
90 gr solid mother yeast
345 gr bread flour
140 ml milk
80 gr water
20 gr olive oil
12 gr of salt
1/2 teaspoon of honey
Preparation
In the bowl of a mixer fitted with a dough hook start diluting mother yeast in the water and milk. Once the yeast is completely dissolved, add flour, salt and honey and put on low speed.
Once the dough has come together, continue to knead for 5 to 6 minutes on a medium speed until it becomes smooth and soft. At this point add drop by drop the oil and continue kneading until the oil is completely absorbed by the dough.
Transfer the dough to a clean, lightly floured surface, then knead it by hand 1 or 2 times.
Place the dough in the bowl and cover it with a cloth and put it in a warm place until the dough has doubled in size, around 4 hours.
After that time, put the dough under a rolling pin and begin pressing it until the dough is 2 cm thick. With a cup cut 8 circles and place them on a lightly oil baking sheet. Brush top with olive oil.
Preheat oven to 450 degrees F (230 degrees C). Bake in preheated oven for 15 minutes, or until golden brown. Serve warm.