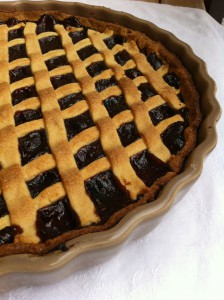 Since we moved here in Redmond and I saw the (huge) kitchen I would have, I told myself I'd have had millions of people visiting me. I've invited for coffee, play date, birthday party, board games, dinner, lunch or simply I have friends coming over for a cup of tea. I always bake something because I like it and because I know people like what I bake (or at least they are very good in pretending it 🙂 ) and this makes me happy.
This post is for all people I met here in Redmond who have eaten a piece of my most know cake, crostata, and asked me the recipe. This is my dad's favorite cake and I've been baking this cake since I'm 10 years old. Once I met Davide my crostata became one of his favorite cakes.
Not difficult to make, it's perfect for every time of the day. The recipe has almost 200 years, belongs to my great great mother. My grand mother taught me how to prepare it and the only difference I did is decreasing the sugar because jam in 2017 have more sugar than 200 years  ago. Maybe my son or daughter will continue the tradition but for the moment it's always a good way to remember my grandmother.
Simple, quick, cheap, delicious and once done can stay in your pantry days and days… but the reality is that you'll be lucky if we have leftovers after two days 🙂
Ingredients
300 gr flour (about 2 cups)
120 gr sugar (about 1/2 cup)
150 gr butter
1 egg and 1 yolk
pinch of salt
raspberry jam 2 cups
Directions
Keep the butter out of the fridge for a couple of hours (less in summer), to make crostata the butter should be soft but not smelt.
Mix the flour and sugar and pinch of salt, then in the center add the egg and yolk and quickly blend with your fingers. Lastly add the butter cut into little pieces and keep handling everything as quick as possible. Mix until you have a ball. This is how the "pastafrolla" (something similar to shortbread) is made.
The secret to have a very good pastafrolla is to handling it as less as possible to have a ball. Even if is not completely smooth, make the ball and leave it at least 30 minutes. During this time the gluten in the flour will "work" and give more elasticity to your dough. In summer will be convenient put it in the fridge to make it harder and make easier to roll it.
Preheat your oven to 350 F (175 C). Split the dough in 3 parts. Spread a thin layer (about 1 cm) of pasta frolla using two parts over the bottom of a 12 inch round pan. Work in the corners, cut the extra pieces around the edge and top with the ham.
Reroll the extra pieces of dough and cut into half an inch strips and lay them over the jam in a cross-hatch pattern.
Bake the crostata for about 40 minutes, or until the dough begins to brown. Do not let it overbake or the pasta frolla will become hard as stone and the jam will become as sticky as glue.
Thanks granny and … Buon appetito! 🙂