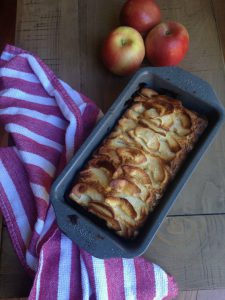 No matter if it's raining outside or you have friends coming for a cup of tea… it's always time for a piece of cake. And if the cake is an apple cake… even better! I love it, I really love it! Soft, flavourful and with a scoop of vanilla ice can make me forgetting also the worst day of the week.
I have a friend who is tasting all my cakes, her name is Ying, she comes from China. From the first moment we met I brought her cupcakes & piece of cakes. Her family is enjoying everything I'm bringing but I'm also happy to have someone to share everything I bake. Above all apple cake.
Unfortunately in my family the only person addicted to apple cakes is myself. Kids and Davide don't really like it. When they see the oven on they look into and once they realise is an apple cake they look at me asking " Next time chocolate cake, ok mom?"
Washington state is very famous for its apples. Many varieties of apple are grown here including Red Delicious, Golden Delicious, Fuji, Gala, Granny Smith and many other that I can't remember the english name. I was suspecting this once I noticed that 1/3 of the fruit Dep in the supermarket was dedicated to apples, tons of apples!! And how gorgeous they are! Actually this cake was done with some apples Ying gave me from her friend's farm. They were  so good that it was fairly a pity to be used for a cake but I wanted to prepare something to give her back and I was sure they would have love it.
So, believe me: are you stressed? Are you hungry? are you in a bad mood? Bake 🙂 for you, for your family, for your friend even for your neighbour, it will be definitely the best and cheapest way to smile again… as I'm too lazy to go running :-).
Ingredients
1,5 cup of flour
3 tsp of baking powder
1 cup of sugar
1/4 cup of milk
2 eggs
3 apples
3-4 tbsp lemon juice
Directions
Preheat oven to 180 degrees C (375 degrees F).
Cut the apples in 4 and every slice in 3-4 smaller pieces. Put all slices in a medium bowl with some lemon juice to prevent oxidation. Stir to have the juice coating all slices.
Sift together the flour and the baking powder. In a large bowl, with an electric mixer beat the sugar and the eggs until the mixture becomes thick, fluffy, and triples in volume.
Add the mix of flour and baking powder to the eggs and sugar mixture and stir gently. Add 2/3 of the apples and mix well. If needed add the milk.
Pour in a plumcake shape pan and spread evenly. Put on the surface the remaining 1/3 of apple slices and spread 1-2 teaspoon of sugar on top.
Bake in the preheated oven for 1 hour, or until cake springs back to the touch.