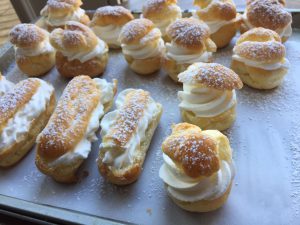 It has been a tough week. Monday started in the worst way a working mom can think about: school closed for snow. Here is Redmond doesn't snow very much or very often. Having hills even 10 cm is enough to have streets  dangerous. School buses are not safe to drive around so… everything closed…alè! 🙁
The week didn't improve as on Tuesday the furnace broke down. In the coldest days Seattle ever remembered the temperature in my house was 10*C (55*F). Of course, everything when Davide was on business trip in Europe for the whole week. Luckily we have good friends that rescued us, they hosted us preparing dinner and being so kind with kids.
Anyway, the guy could fix the furnace only on Friday. Once I could feel warm again in my house, the second thought was: baking. But not normal baking, I deserved something spacial. And what more special that something with whipped cream (which I love!!)? My favorite dessert with whipped cream are cream puffs or bigné or éclaires (long) or whatever done with pate-à-choux.
I think this is the best way to close the week and to survive to the long night listening to the results of Italian political elections 🙂
Ingredients (for 45 puffs)
100 gr butter
150 ml water
100 ml milk
150 gr flour
5 eggs
a pinch of salt
for chocolate ganache: 200 gr dark chocolate & 200 gr whipped cream (liquid)
Preparation
Preheat oven to 450 degrees F (230 degrees C).
In a medium saucepan, combine  butter (cold from the fridge), salt, milk and water. Bring to a boil, stirring until butter melts completely. 
Add the whole amount of flour in a sec. Stir vigorously with a wooden spoon until mixture leaves the sides of the pan and begins to form a  ball. Remove from heat.
Add egg one at a time, beating well to incorporate completely. Allow each egg to fully incorporate before adding the next. This part works better if you put the dough in a electronic stand mixer fitted with the flat beater. Mix on medium-low speed when adding eggs one at a time.
Grease a cookie sheet. The lay of the butter should be very thin. Once greased, use a paper towel to remove the excess of butter. Puffs should not stick but not float on the butter.
With a pastry bag fitted with a star tip pipe dough onto cookie sheet in 1 – 1/2 rounds. Smooth the pointed peaks with a moistened finger.
Bake 20 minutes until puffs rise and are golden brown. Cool completely on a wire rack.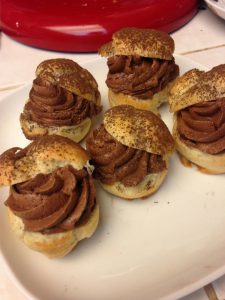 For the filling, use whipped cream or chocolate ganache. Chocolate ganache is a mixture of equal weights chocolate and cream, melted together.  The simplest recipe is 200 gr chopped chocolate whisked with 200 gr cream until totally combined and shiny. Let it cool. Whip the liquid ganache until it's soft and solid to be used to fill the puffs.
Empty puffs can be stored at room temperature for a couple of day. You can also freeze them once filled.