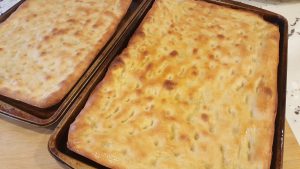 "What do you miss most about Italy?" that's the question I've been asked more frequently here in US. Well, I can find good ingredients in the groceries which help me cooking a decent Italian dishes. There are pizzerias owned by Italians that although pretty expensive might help in saving a "do-not-know-what-to-cook" dinner, Washington State is famous for its wines and there are amazing wineries for an aperitivo or happy hour with friends.
So what?! What do you miss? Well… what I miss most are bakeries. Yes, back to the basics of the food. Italians eat bread, it's our "never-without" food. We buy fresh every day or every other day. I was used to enter in the bakeries and stand couple of minutes to decide what to choose. Wheat or whole grain? With or without seeds? One big like ciabatta or small like "panini"? With crunchy crust or soft crumb? I admit some bakeries have not their own oven but the real one smell sooo good after hours of baking bread….
You can't only find bread in bakeries. There is also hand-made cookies and cakes and the best ever… focaccia (better know in US as flat bread). And not the focaccia you can buy in the supermarket in a plastic bag. The hand and fresh made focaccia, with extra virgin olive oil on top and that wonderful gold brown crust. We can call "our street food" even though Italians are more known to seat 1 hour for lunch that eat on their way to work :).
I already published years ago a recipe for focaccia here and little "focaccine" here. But we love focaccia so I keep modifying the recipe  to find the real amazing one. You have to try at least once how does it taste if you go to Italy. And if you are not planning to go in the future here you have my recipe.
Let's amaze your guest with fresh focaccia once you invite them for a dinner buffet or just make for yourself or your family in the weekend. In addition to the taste, it's so cool when your house smell like a bakery 🙂
Ingredients
660 gr of bread flour (high gluten)
1 bag of dry yeast (7 gr)
420 gr of lukewarm water
3 teaspoons (20 gr) of fine salt
course sea salt
1 teaspoon of sugar
1 teaspoon of honey or malt
50 gr of extra virgin olive oil
For the salamoia: 50 ml extra virgin olive oil and 50 ml water
Preparation
In a little bowl add 100 ml of lukewarm water and yeast. Stir gently until the yeast is completely dissolved. Add the sugar. Stir again and let sit for 15 minutes until foam appears on the surface and it starts rising.
Combine in a mixer bowl the flour and the mixture of water and yeast. Start kneading on low speed. After 10 "  pour the rest of lukewarm water (320 gr). Keep the low speed until the water is completely absorbed. Add the honey (or malt) and the salt.
Once all ingredients have been incorporated, pour the oil slowly and constantly until the 50 gr of olive oil have been added. Increase a bit the speed and knead for about 10-15 minutes until the dough comes together around the kneading hook, becomes elastic and smooth.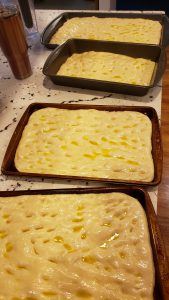 Place the dough in a large bowl greased with oil. Cover with a plastic wrap and let rise for 3 hours in a warm place (85-90 F).
Grease with oil 2 baking pans ( 10x 15 inch or 27 x 40 cm). Once the dough doubled, divide it in 2 pieces and put each on a greased pan, turn it over to coat another side with oil and let it rest for 15 min. Cover with plastic wrap to prevent from drying out. Don't rush, these 15 minutes make easier the next step.
Let's prepare the salamoia: weight first the oil in a little bowl and pour the water in after. Mix. You will obtain an emulsion, meaning the mix will just stay together for a bit, then oil and water will separate from each other again. Do not worry, mix again just before to use it on the dough.
Using your hands knock the dough down to fit the pan. Try to maintain the same thickness all over the pan. Pour 1/3 of salamoia on each dough and using your fingers press down the dough to get the salamoia everywhere and absorbed. Sprinkle with course sea salt. If you want you can add now raw onion rings or olives or cherry tomatoes. Cover with plastic wrap and let it rise for 1 hr.
Bake in a preheated to 425F (230 C) oven for 15-20 minutes. Depending on your oven you might use the broil for the last 3-4 minutes if you like a more gold-brown crust.
Once out of the oven brush the focaccia with the last 1/3 of salamoia. Serve warm.