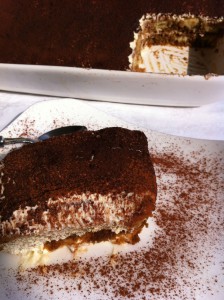 This post is for all my non-Italian speaking friends. Tiramisù is the most famous italian dessert in the world and when I was living in Germany I prepared it very often for all my friends. Lots of them asked me the "authentic italian recipe" so with this post I'm sure I'll make happy many people.
Last time I prepared it was for my spanish uncles who came to visit us in Milan. I cooked typical italian dishes and for dessert I decided to make tiramisu. It was a wonderful idea, for them but also for us 🙂
The advantage of tiramisu is that can be made ahead allowing all the flavors to mingle, everybody loves it and is very very very simple to preparare. The cheese to be used is mascarpone. Is an italian fresh cheese but this dessert is so famous abroad that you can find mascarpone in every country. Easy, no?
Ingredients (8-10 portions)
250 gr mascarpone
2 eggs
3 tablespoons of sugar
400 gr of ladygfingers (savoiardi in Italian)
1 cup of espresso coffee
3 tablespoons of  cocoa powder
2 tablespoons of marsala (or brandy)
Preparation
Put the sugar and the egg yolks in a large bowl. Beat well until the mixture is light and creamy. Add mascarpone and half of marsala, and beat well.
Beat the egg whites until stiff and add them in the mascarpone cream. Mix gently.
Pour the espresso in a shallow dish along with the remaining marsala. Stir well. Quick dip each ladyfinger in the espresso mixture turning for a few secs until they are nicely soaked.
Line these in the bottom of a glass dish until you have used half of the biscuits. Spread over half of the cream. Cover with the remaining biscuits and spread over the remaining cream. Dust with the cocoa.
Chill in the fridge for 4-5 hours or better overnight. Buon appetito!