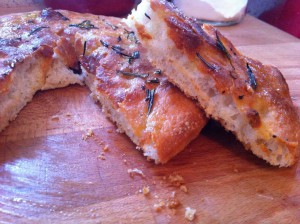 An italian olive-oil bread, quite flat and square-shaped. Few words to describe our focaccia genovese. There are endless variations of focaccia. I'll describe below the most famous that comes from Genoa, a town on the italian northwest coast.
It's not a street food but you can see at every hour of the day someone eating a peace of focaccia while walking or reading the ipad seated on a garden seat. It's a gorgeous alternative of the bread if you want to prepare a sandwich and, as every student I know, I ate tons and tons of focaccia during the years of the university.
You can use the below version as a starter to experiment with making your own and enjoy adding various toppings. I love putting rosmarin but you can use also cherry tomatoes,  onions, olives, etc.
How to amaze your friends? Prepare a big tray of focaccia. Cut in the middle, fill with your favorite ingredients (ham and cheese or  salad and salmon) and cut in little peaces.  Serve together with a simple beer maybe during a football TV evening 🙂
Ingredients
500 gr strong white bread flour
50 ml extra virgin olive oil
4 gr dry yeast (1/2 sachet)
250 ml lukewarm water
a pinch of sugar (around 3 gr)
10 gr fine salt
5 gr rock salt
for the glaze: 30 ml water + 30 ml oil
Preparation
Place  50 gr of flour, 50 ml of water and the yeast in a bowl and gently stir to have a semi-solid mixture. Leave to rest for about half an hour. Bubbles will appear on the surface.
Spill the above mixture in a large bowl  and add the remaining flour, the sugar, the oil and all water. Knead a little bit and add the fine salt. Vigorously stir with your hand until it looks elastic and smooth. To make it easy you can knead the dough on the table.
Shape into a ball, cover and leave to rise until doubled in size (around 2 hours). The temperature should be 27°C. In winter you can place the bowl near the radiator.
Stretch it with your hands to form a rectangle and fold into 3. Place the folded dough in a oiled oven tray and with your hands strech it out to cover the tray. Sprinkle the surface with oil  and water (10 ml + 10 ml) and rock salt. Let it rest for 2 hours.
With your fingertips  press the dough to create lots of little holes. Let it rest again for 20′.
Preheat the oven to 220°C and bake for 20′ until it looks slighly golden.
For the glaze: mix 20 ml of water and 20 ml of oil to create an emulsion and spread it on the surface of the focaccia just out of the oven when the surface is still hot and can absorb the glaze.
Cut and serve hot or warm…mhmhmhmh 😛  Buon appetito!